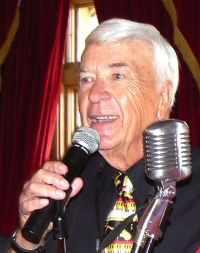 Mile High Jazz Band and Brewery Arts Center present "Speedy" Garfin & the Garfin Gathering on Saturday, March 12, 2011, 7:30 p.m., at the BAC Performance Hall, 511 West King Street in Carson City.
This unforgettable, feel-good, evening of jazz and comedy features "Speedy" Garfin on alto sax, soprano sax, clarinet, flute, conga drums, and vocals; keyboardist Kerry Shacklett; drummer George Stigliano; and the vocal styles and choreography of Jakki Ford.
Tickets are $16.50 general admission, and $13.50 for students, seniors, and MHJB and BAC members. Tickets are available at the BAC box office, online at breweryarts.org, through Vendini, and at the door. For information, call MHJB at 775-883-4154.